Featured on Electrek.co and Bangshift.com
Motor: Netgain Hyper 9
Transmission: Stock EA71 4 Speed Manual with 4WD
Battery Management System: Orion BMS
Batteries: 5 x Tesla 6.4kwh modules
Hawkeye Innovations Display
Flash Drive Sentinel Factory Gauge Driver
Regenerative Coasting and Brakes
Torque: 173 lb/ft
HP: 125
0-60 – 9.5s
1/8 mile – 9.6s
Range: ~125 miles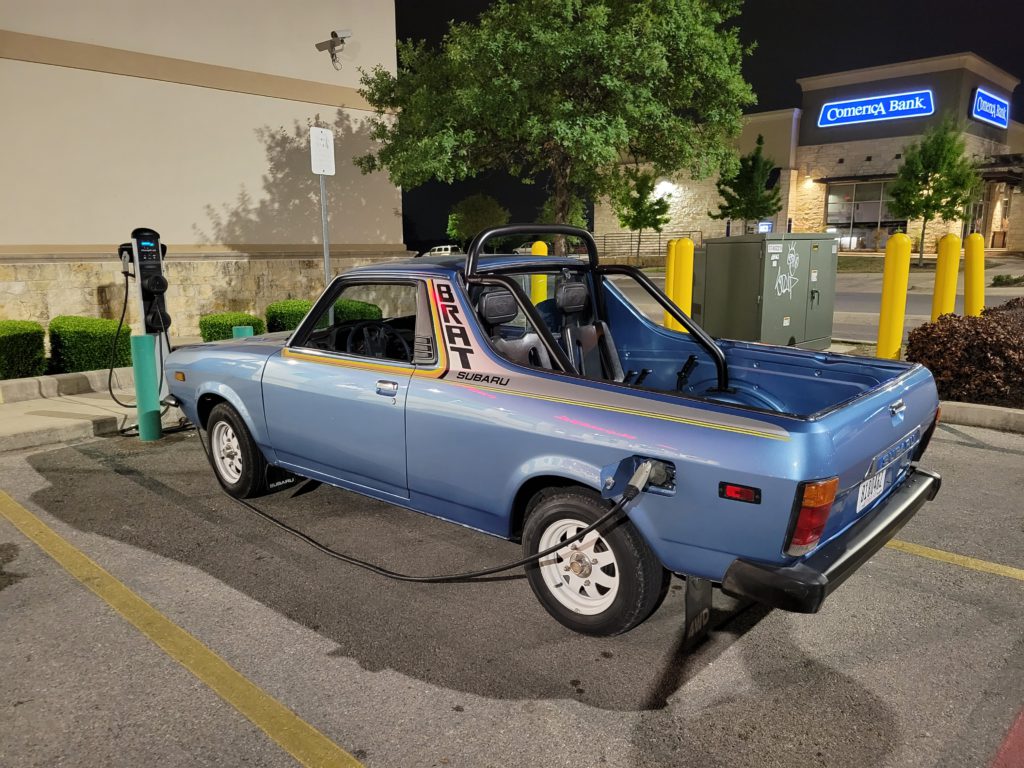 This 1980 Subaru Brat was in need of a lot of love.  It needed a full restoration along with a blown head gasket.  Rather than go back in time, we took it into the future with an all-electric conversion.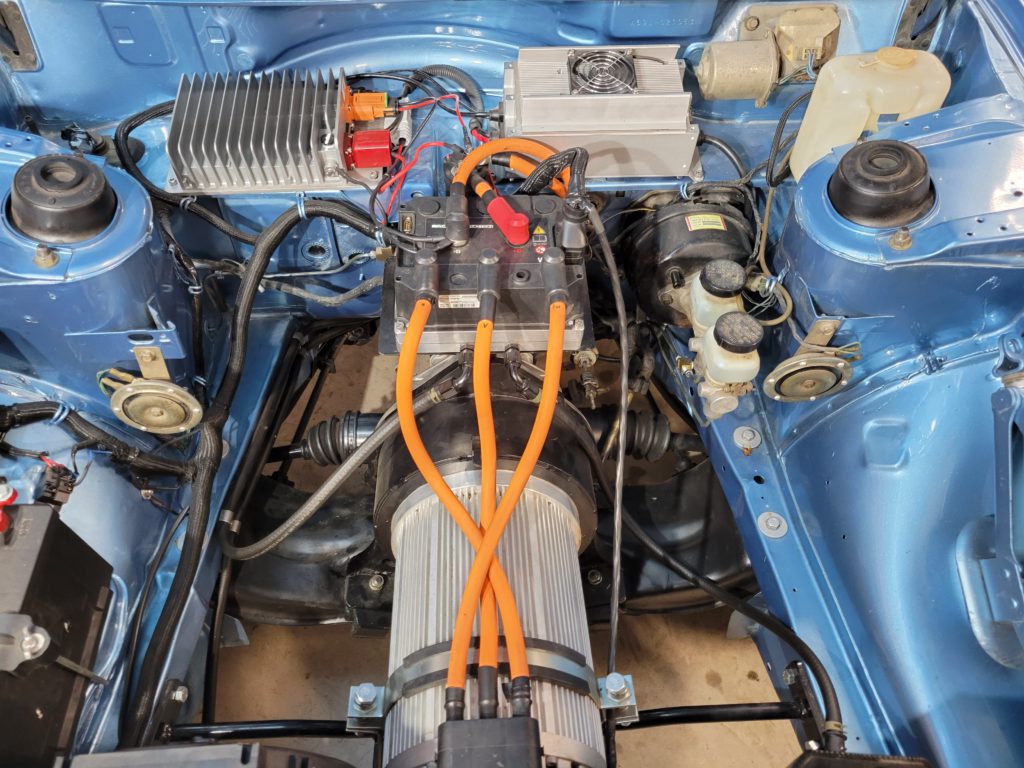 Why Do An Electric Conversion?
Three words: fast, quiet, reliable. 
These are difficult goals to achieve in classic cars.  Sure, some cars you might want the rumble of a big V8, but sometimes you just want to cruise and enjoy the ride.  When you punch that throttle, the feeling of instant torque will put a smile on your face. 
And, it gets noticed.  A well-done electric conversion is always a hit.  From young to old, electric is becoming the new frontier of hot-rodding.  Get in early!
What kind of cars make good conversions?
The range of cars that make viable conversion candidates grows by the day.  As battery technology and motors improve, cars that used to be a dream are now being converted  to all-electric. 
To maximize range and performance, weight is key.  A light weight, smaller vehicle will go faster and further than a bigger, heavier car with the same conversion.  Makes sense, right? 
The best candidates are usually older (pre-2000) Porsche, BMW, Volkswagen, Fiat, Subaru, Triumph, MGA/MGB and kit cars.  But we have seen excellent conversions on some more traditional American cars such as Mustang, Falcon, and Corvair that stop people in their tracks.
The conversions are reversible, so you do not need to worry you are "ruining" a classic.  But we doubt you ever want to go back once you experience the difference.
What if your car needs more work?
We don't just do conversions on perfect cars.  If you car needs more love, we can help make it the car you have always wanted.  From upgrading the brakes to go along with the improved performance, to a full-restoration, we can do it all.
Among the many electric motors available in the market, the Hyper 9 electric motor stands out as the best choice for converting classic cars to electric drive.
Power and Performance
The Hyper 9 electric motor is one of the most powerful and efficient <200V electric motors on the market. It has a peak power output of 96kw or 130 horsepower and a maximum torque of 173 lb-ft, making it capable of delivering impressive performance. The motor's advanced design also ensures a smooth and quiet driving experience, which is essential for classic car enthusiasts who want to maintain the traditional driving experience of their vehicles.
Compact Size
The Hyper 9 electric motor is compact and lightweight, making it ideal for use in classic cars that were not designed for electric engines. Its compact size also means that it can be easily installed in the engine bay without requiring significant modifications to the car's structure. This makes the conversion process much easier and less expensive.
Easy to Install
The Hyper 9 electric motor is designed for easy installation, with a plug-and-play interface that makes it simple to integrate into any vehicle. The motor also comes with a complete set of installation instructions, making it easy for anyone to convert their classic car to an electric.
Affordable
Converting a classic car to an electric engine can be an expensive process, but the Hyper 9 electric motor is one of the most affordable options available. Its low cost, combined with its impressive performance and ease of installation, makes it an excellent choice for anyone looking to convert their classic car to electric power without breaking the bank.
We are authorized
NetGain dealers
and authorized Orion BMS installers, so you can trust that we have the know-how and support to make sure your car deliver the performance and reliability that you want.
Which Transmission Do I Need?
A manual transmission is used because they have less parasitic loss than an automatic transmission and the motors will not have to "idle" like a gas engine.
Don't worry, you do not have to use the clutch unless you want to.  You can generally pick a forward gear and leave the car in that gear for around town driving.  The motor has enough torque to get you moving in a high gear and enough RPM range for cruising.  The transmission will provide you with a Reverse and a High gear for highway driving.  Or we can install a reverse switch that allows you to change directions with the press of a button.
We will get an adapter made to fit the motor(s) to your existing manual transmission or help you find a suitable transmission for your vehicle.
Of course! Just because we do not offer a Tesla Swap Kit does not mean we would not be happy to convert your vehicle using a Tesla drive-train.  They are a bit more intense and generally less reversible.  But you get a lot of power, no need for a transmission, and excellent range.
The Tesla drive unit is adapted to your existing chassis by swapping to an independent rear suspension setup.  Your ride quality will improve along with your performance!
We do not just convert your vehicle or sell you a kit and run away.  We will provide support the entire way through the conversion and beyond.
We have been working on cars for enough years to have tried just about everything.  An electric swap is different, but not much more complex than an LS or Coyote swap if you have someone helping point you in the right direction.
Browse our store for prices and information on the components. We offer the individual components up to complete kits.
Contact us. We are available to answer your questions to make sure you get what you need to get started.

We pride ourselves in providing top-notch service and provide frequent updates on progress. We are taking orders now!